BEAUTIFUL Jim Key (1889-1912)

| | |
| --- | --- |
| | |
| Demonstrating Spelling abilities – 1904 LOUISIANA PURCHASE EXPOSITION | Beautiful Jim Key Memorial & Burial Place - Shelbyville, TN |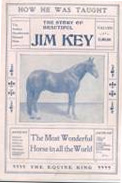 All but forgotten, save for a few pockets of interest and markers of obscured hoofprints and footprints, the lost history of Dr. William Key and his best friend Jim Key began to resurface in the 1970s when award-winning filmmaker and great American story hunter David Hoffman acquired an inconspicuous promotional pamphlet, little suspecting he had come across treasure begging to be reclaimed.
From that unassuming pamphlet, David Hoffman and Mim Eichler Rivas, joining forces, were able to reassemble the story that leapt onto the public stage in 1897 when, at age eight, Beautiful Jim Key trail-blazed his way into stardom and set the standard for animal celebrities forever after.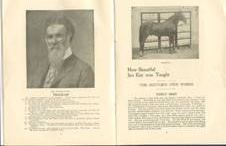 From 1897-1906, over nine years of continuous performances, Doc Key and Jim captivated the nation by demonstrating the "power of kindness" employed by Bill Key in cultivating Jim's inexplicable abilities to read, write, spell, do math, tell time, sort mail, use a cash register and a telephone, cite Bible passages, and engage in political debate.
Known as the "Marvel of the Twentieth Century" and "The Greatest Crowd Drawer in America," the two were seen by an estimated ten million Americans and written about in every major newspaper. Fans collected his promotional pamphlets, souvenir buttons, postcards and photos, bought Beautiful Jim Key pennies, danced the "Beautiful Jim Key" two-step, wore Jim Key gold pinbacks in their collars, and competed in Beautiful Jim Key essay contests, while millions signed up to join and support humane groups around the country. Two million children joined the Jim Key Band of Mercy and signed his pledge, "I promise always to be kind to animals."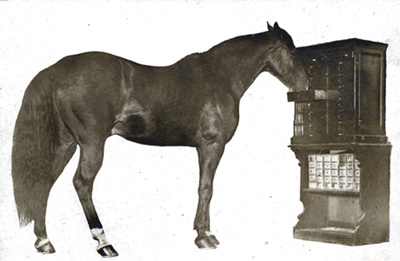 Bred for the turf – out of an aging but pure Arabian, Lauretta Queen of Horses, that once belonged to P.T. Barnum, by Tennessee Volunteer, an illustrious Hambletonian sire– the colt was foaled in 1889 in Shelbyville, Tennessee, so sickly and crippled that his owner, Dr. William Key, hardly expected the ugly duckling of a scrub-colt to live. Instead of naming him for a biblical prophet as he had planned, he chose "Jim" after a wobbly local drunk, but gave him his own last name. Treating him with his own medicines, the Doc watched as the misfit colt transformed into a gorgeous mahogany bay.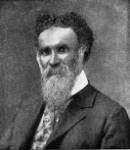 A self-trained veterinarian, "Dr." William Key was born a slave in 1833. Even as a child Bill was recognized for having extraordinary horse whispering and animal healing skills – using only kindness and no force. Educated by his master, tanner John W. Key, and his master's sons in Shelbyville, Tenn., Bill later chose to protect the boys during the Civil War, serving the Rebels in the battles of Fort Donelson, Stones River, and Shiloh, while also serving the Yankees and fellow slaves along the Underground Railroad. Sentenced to hang as a double-agent, he escaped thanks to his poker-playing genius. After the war, he went back to Shelbyville, paid off the mortgage on his dead master's fallen property, and supported his master's heirs for the rest of their days.
The entrepreneurial Dr. Key established a leading veterinary practice, a racetrack, hotel, restaurant, and made a fortune in the patent medicine business selling Keystone Liniment in his traveling medicine shows. He was married to four notably beautiful, educated women. His third wife, Lucinda Davis Key, MD, received her medical degree at Howard University, one of the first black women doctors licensed to practice in the state of Tennessee. Dr. Key had no children of his own.
Bill was already fifty-six years old when the sickly Jim was foaled. When Jim's dam died, the gangly foal refused to be separated from his owner and trainer, causing such a ruckus in the barn that Dr. Key was forced to take the colt into his home and out on the road with him to sell Keystone Liniment.
Traveling and performing with Dr. Key and his medicine show for the next seven years, Jim became a seasoned thespian. The Doc began his serious tutelage of Jim on a whim, thinking he would teach him only one letter of the alphabet, then another, then the rest. Over seven years, he used kindness, patience and rewards to teach Jim to read, spell, recognize money, and do basic arithmetic.
In 1897, Dr. Key was invited to serve on the Negro Committee at the Tennessee Centennial Exposition in Nashville. Jim came along, making his debut as an educated horse, and earning the rapturous praise of President William McKinley – who declared that Jim Key was the greatest object lesson of the power of kindness that he had ever witnessed.

Press accounts caught the attention of a New York promoter Albert R. Rogers. Though Doc Key refused the extravagant amount he offered to buy Jim, a promotional agreement was reached.
In classic style, Rogers whisked Key and Key off to New York to introduce them to high society and the leaders of the humane movement. To his dismay, few were initially interested, although the press did immediately give him the stage name of BEAUTIFUL Jim Key. Changing tactics, Rogers repaired to "Glenmere," – his palatial New Jersey estate later known as the "Equine Millionaire's second home" – where he and Dr. Key polished the show and pioneered promotional strategies that soon made Beautiful Jim Key a household name.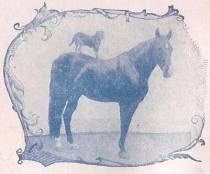 JIM & MONK
Jim had a famous entourage that included his famous trainer and his two grooms, Stanley Davis (later a prominent veterinarian in Tennessee), and Samuel Davis, as well as a stray dog named Monk who became the Celebrated Educated Arabian-Hambletonian's personal bodyguard. Either perched on Jim's back or fiercely guarding his stables, he refused to allow reporters or fans in to the star – unless they took his picture and ran it in the paper.
At first humane leaders were wary about aligning themselves with an "animal act" but visionary Bostonian, George T. Angell, of the Massachusetts Society for the Prevention of Cruelty to Animals and the American Humane Education Association, saw Beautiful Jim Key as the live embodiment of the humane movement. A quote attributed to Time Magazine declared, "This wonderful horse has upset all theories that animals have only instinct, and do not think and reason."
Jim performed in the top expositions, theatres and music halls of the nation and was a hero everywhere he went, collecting keys to cities and endorsements from elected leaders, city councils and school boards. The top moneymaker at the 1904 St. Louis World's Fair, he performed in front of then-President Teddy Roosevelt's daughter, Alice. When asked to spell her name, he cunningly attached the surname of her escort, Congressman Nicholas Longworth, setting up letters to read: "Alice Roosevelt Longworth". When the couple was married two years later, Beautiful Jim Key was declared to be psychic as well as a genius.
William Key became arguably the most recognized African-American of his time, seen by more white audiences than the more well-known black orators or performers. He made significant strides in breaking down color barriers – with special performances and discounts for black audiences. At the World's Fair in Charleston, South Carolina, he and Rogers convinced the fair's planners to open its doors to African-Americans for an entire day – to overwhelming financial success.
Universally praised for Service to Humanity, Beautiful Jim Key and Dr. William Key retired after their record breaking 1906 season when Jim's rheumatism caused the two to return to Shelbyville with the plan to resume after a year's rest. Three years later, Bill passed away at age 76, causing a stir even in death by the large numbers of mourners – black and white – who attended his memorial. In 1912, Beautiful Jim Key died on a cool autumn day, "passing out with all ease," as Dr. Key's brother-in-law, Dr. Stanley Davis, wrote to Albert Rogers.
The idea that a horse could actually do all that he appeared to do remains as controversial today as it did a century ago, probably more so. Yet what is crucial is that by appearing to do all that was claimed of him, Beautiful Jim Key and Dr. William Key managed to change the world.